Wherever you're travelling to on your next adventure, there are plenty of ways to reduce the impact your trip has on the environment.
Firstly, think about how you plan to travel. And what you plan to do when you get to your destination. (Here are a few tips for eco-friendly travel.)
Next, pick eco-friendly travel products that help you to travel greener. The less plastic you use, the less waste you create and the more harmoniously you interact with the environment, the better!
You can also give any travel product purchases a few extra environmental brownie points by downloading TreeClicks before you check out. This mobile app and browser extension plants trees every time you shop with one of their partner stores. And it doesn't cost you anything!
But first things first. What are the must-have eco-friendly products for travellers? And where can you buy them?
Here are a few of the eco-friendly travel items you really shouldn't leave home without…
9 Must-have eco-friendly products for travellers
Reusable water bottle

It's important to stay hydrated when you're on the move. But buying bottled water has a terrible impact on the environment. Travelling with a reusable water bottle made from sustainable materials is a much better, less waste-creating choice.
Our eco-friendly travel favourite: Dopper bottle
Hardwearing glass and steel bottles in a range of colours.
Water purification system
Even if you're travelling to a country where the tap water isn't safe to drink, you can still avoid buying bottled water. Invest in a water purification system and you can purify the tap water you pour into your reusable bottle. Clean and safe, for both you and the planet.
Compact and with a long battery life (up to 50 treatments), the SteriPen Ultra destroys over 99.9% of bacteria and viruses found in water.
Reusable cutlery & snack packs
Travelling often means eating on the go. But you don't have to opt for convenience food and the single-use plastic associated with it.
Pack your own bamboo cutlery and you never need to use a disposable knife and fork. Take a lunch kit too – to keep homemade dishes fresh throughout the day – and you reduce your waste even further.
Bamboo cutlery, a metal straw and a stylish reusable lunch bag. Everything you need for lunch on the go!
Canvas shopping bag

Say no to single-use plastic grocery bags wherever you are in the world! Whilst some countries impose restrictions on stores giving out plastic bags, others are still to adopt the practice. So take your own reusable shopping bag away with you. That way whenever you pick up supplies, you can avoid unnecessary plastic waste.
Etsy is a great place to find reusable cotton bags – plain, personalised and everything in between.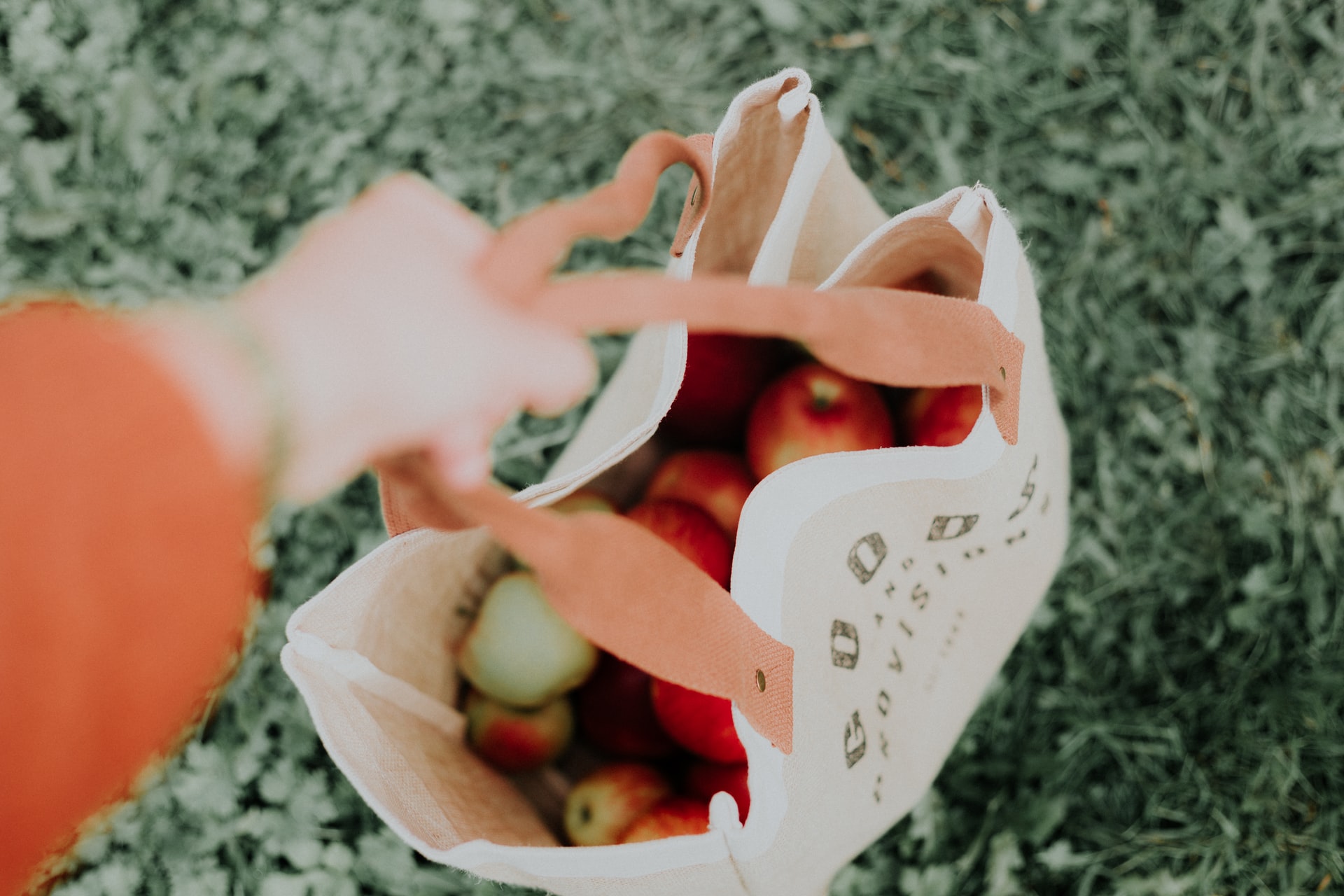 Bamboo toothbrush

Millions of plastic toothbrushes are thrown away every year. So when you're picking out an eco-friendly travel toothbrush, bamboo is the perfect alternative. Bamboo is a fast-growing, low-maintenance crop. And it's 100% biodegradable. Choose a brush with charcoal infused bristles and it'll naturally whiten your teeth and remove plaque as you brush!
A great, completely biodegradable travel toothbrush. And there are discounts if you buy in bulk.
Solid toiletries
Ditch the usual plastic toiletry bottles for shampoo, conditioner and soap in bar form. You can find bars that are zero waste. Even better, you can find bars that only use natural ingredients and no palm oil whatsoever.
Natural ingredients work wonders for your skin and your hair. Bars are really long-lasting. And you can carry them all in a compact soap tin giving you a little extra space in your travel bag.
Kind to your hair and to the planet!
Solar charger
Keeping tech charged when you're travelling can be tricky. But you want to be able to look up a bus timetable or text the folks back home or even listen to a few of your favourite tunes. Enter the solar charger. Let the sun's rays charge your devices and stay connected 24/7.
This compact solar charger allows you to quickly charge two devices at once.
Ocean friendly sunscreen
Around 14,000 tons of sunscreen are thought to wash into our oceans every year. The chemicals in this sunscreen are contributing to coral reef bleaching and are damaging underwater habitats. Whilst it's important to protect your skin from the sun, you should do so with an ocean-friendly sunscreen.
Scent free and suitable for sensitive skin, this sunscreen is reef-safe and comes in recyclable sugar cane packaging.
Eco-friendly travel bag
Time to pack all your eco-friendly travel products ready for your trip! But how environmentally-friendly is your trusty travel bag?
If you're in the market for a new travel bag, be sure to research how, where and from what a bag has been made. And then check that the bag also ticks boxes for functionality, quality and durability. The right travel bag will weather many years of adventuring with ease!
Available in three sizes (ranging from 40l to 100l), this waterproof, super sturdy bag is made from 100% recycled materials.