Hong Kong is one of the most vegetarian-friendly cities in Asia. With a growing number of vegetarian and vegan restaurants, explaining that you're a traveler who doesn't eat animals won't make you look silly . And if you do end up in a restaurant that also serves dishes with animal ingredients, it is almost always possible to order a vegetarian option.
Buddhist influences in vegetarian dining in Hong Kong

Around 90% of the inhabitants of Hong Kong (figures 2023) say they are Buddhist. Because followers of Buddhism eat predominantly vegetarian and largely even vegan, it is not surprising that many restaurants in Hong Kong are plant-based. In addition to its own inhabitants, Western influences are also responsible for the growing number of plant-based restaurants, cafes and other catering establishments.
What is a vegetarian dish with mock meat?
Many restaurants in Hong Kong serve mock meat. So don't be surprised if you see dishes with chicken, beef, pork, shrimp or fish on the menu in a vegetarian restaurant. These are all made from fake meat, which usually consists of soy and/or wheat with spices. It is often a tasty addition to a dish. And sometimes it is even difficult to distinguish from the real thing.
If you are eating out in a restaurant that also serves real (animal) meat, always ask whether it concerns the fake meat variant. This way you don't run the risk of getting the wrong sign pushed under your nose.
Do you also not like the idea of eating fake meat? Or are you intolerant to gluten or soy? No problem. The menu often also includes dishes without mock meat. Then vegetables and tofu are often used.
6x Vegetarian dining at restaurants in Hong Kong
For anyone who eats vegetarian or vegan and is currently in Hong Kong, there are plenty of restaurants to suit your needs. The tents below are therefore definitely recommended to store if you are planning a trip to this city.
Buddhist food at Three Virtues Vegetarian Restaurant
Three Virtues Vegetarian Restaurant is a place that not only serves vegetarian food but also prepares Buddhist inspired dishes. All dishes at this restaurant are vegetarian. The dishes are based on the Buddhist principle of ahimsa, which means non-violence. This means that no meat, fish or shellfish are used in the dishes and that attention is paid to the use of fresh and healthy ingredients. Mostly all dishes on the menu are vegan. If eggs are used, this will be explicitly indicated. Menu full of vegetable dishes in this restaurant
The menu is varied and offers a wide variety of dishes, including noodles, rice dishes, soups and dim sum. mock meat is widely used. The dishes are not only healthy and tasty, but are also visually appealing and beautifully presented. The service is very fast, before you know it your table is full of dishes.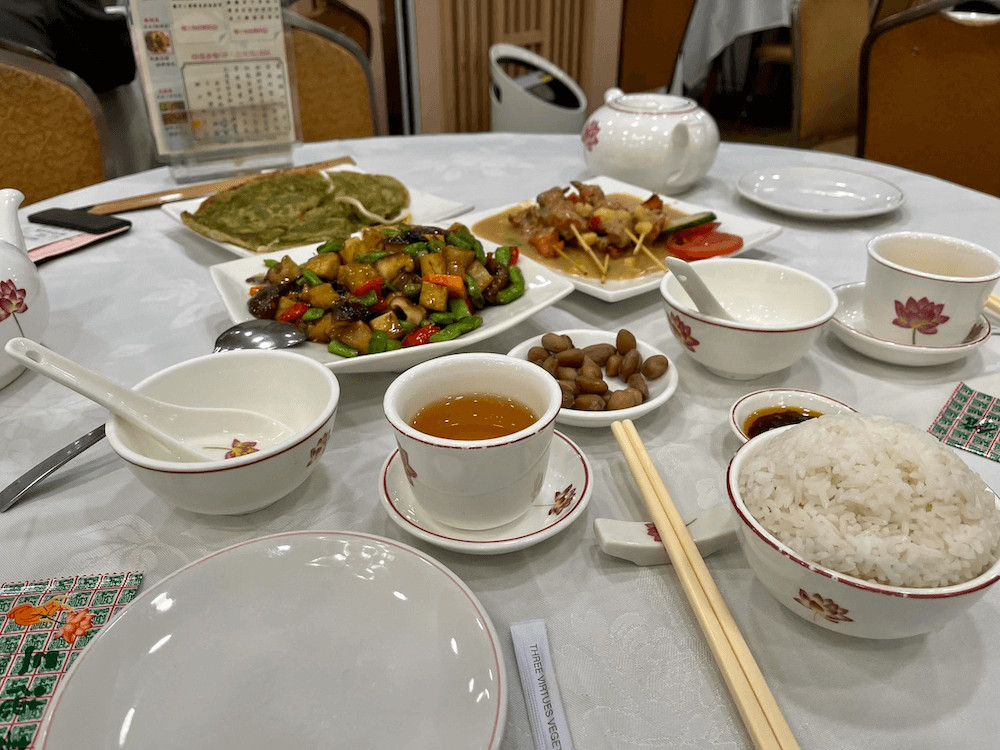 Eating vegan in Hong Kong
The restaurant has a relaxed and calm atmosphere, which adds to the overall experience. You will be kindly welcomed with a pot of tea and peanuts. If you are looking for a unique and captivating culinary experience in Hong Kong, Three Virtues Vegetarian is a vegetarian restaurant to visit. In addition to the mock fish in sweet and sour sauce, the seaweed pancakes in particular are a snack that we recommend ordering. They have two locations, in North Point and Jordan.
Vegetarian brunch at Green Waffle Diner
If you are looking for a cozy place to have vegetarian breakfast, brunch or lunch in Hong Kong, you should definitely visit Green Waffle Diner .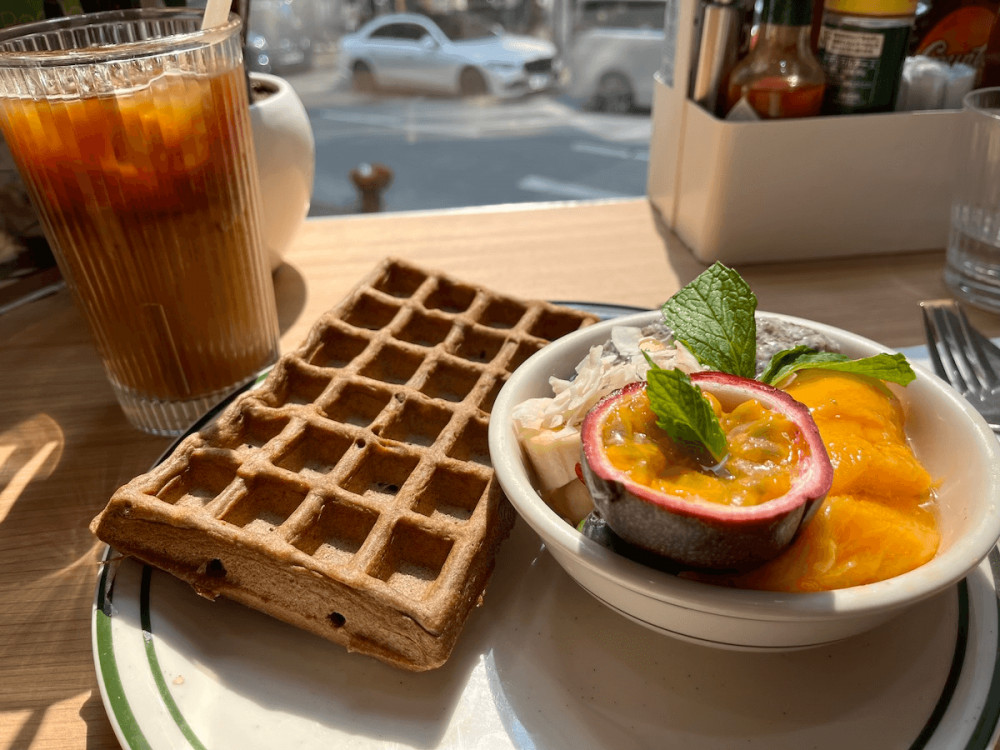 This diner specializes in waffles, but also offers a varied menu of other dishes, such as sandwiches, smoothie bowls and salads. The decor is inspired by an American diner, creating a cozy atmosphere.
Not the entire menu is vegetarian, but if you eat plant-based you can certainly get by with the menu here. For example, choose the buckwheat waffle with fruit bowl as a healthy start to the day. But also the pandan pancakes with fresh fruit are highly recommended!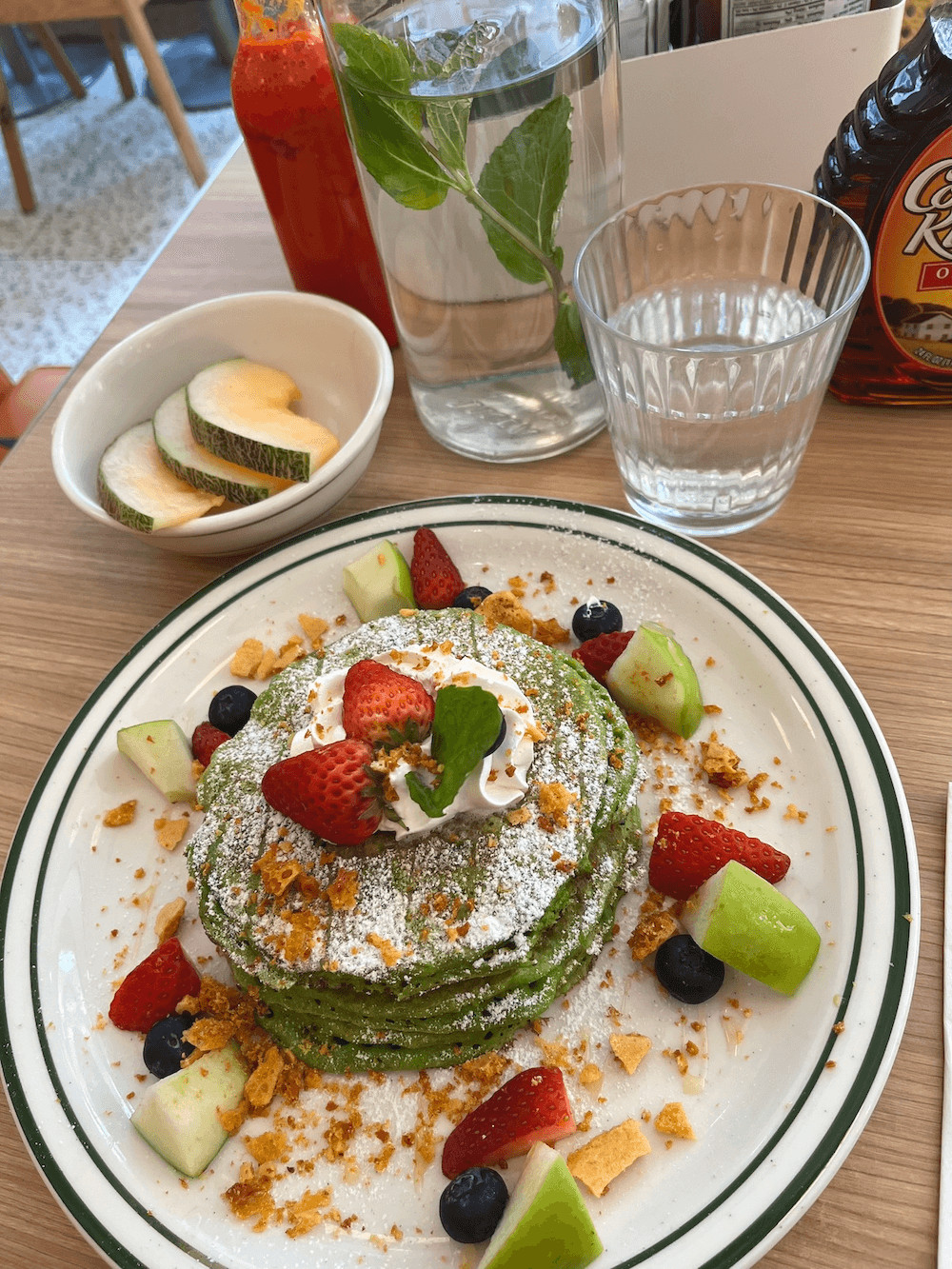 Michelin star restaurant Tim Ho Wan, vegetarian dishes
Although Tim Ho Wan is mainly known for its famous dim sum, they also offer a fantastic selection of vegetarian dishes. Moreover, this is the most affordable Michelin star restaurant in the world! You can have lunch here for two people for less than 20 euros.
It takes some searching, but once you've found the vegetarian options on the menu, you'll notice that they're not inferior to the rest of the menu. A well-known favorite is the fluffy, steamed egg cake. Other tasty options include stir-fried noodles with vegetables and steamed lettuce with soy sauce. And don't forget to order the pan-fried coconut cake for dessert. In short, the vegetarian choices at Tim Ho Wan are definitely worth a try.

Knead for vegetarian sandwiches
If you're in the mood for a plant-based sandwich, Knead is what you're looking for. This sandwich shop has an extensive range of sandwiches, including various vegetarian options. You choose your own type of bread. From sourdough to white baguette. You can also go here for gluten-free bread.
Vegan and vegetarian sandwiches
At Knead you choose via an order form, where you can tick as many ingredients as you feel like. You can also choose from one of the specials. For example, the "Vegetarian Delight" sandwich is filled with grilled veggies, avocado, hummus, and a mix of lettuce. For cheese lovers there is also the "Ultimate Grilled Cheese", a delicious sandwich with different types of cheese and tomatoes.
The portions are not huge, but they are of good quality. You can choose to eat it in the restaurant itself or to take it with you. Then everything is neatly wrapped in paper. The vegetarian sandwiches are not only flavorful, but also healthy and nutritious, making Knead the perfect place for vegetarians and health-conscious eaters looking for a tasty lunch.
Eating a vegetarian burger at HONBO
For vegetarians looking for a delicious burger experience, HONBO in Hong Kong is the place to be. Although the menu offers a variety of meat burgers, it is the vegetarian burger that really steals the show: the Impossible burger. This burger is made from the well-known plant-based Impossible meat substitute and is served with various toppings such as lettuce, tomato, pickle and the delicious homemade sauce.
While it's a shame there aren't more vegetarian options on the menu, the Impossible burger is certainly a tasty choice for those looking for a meatless option. The quality of the burger is high and the combination of the juicy flavorful vegetable burger and the toppings makes for a delicious and satisfying meal.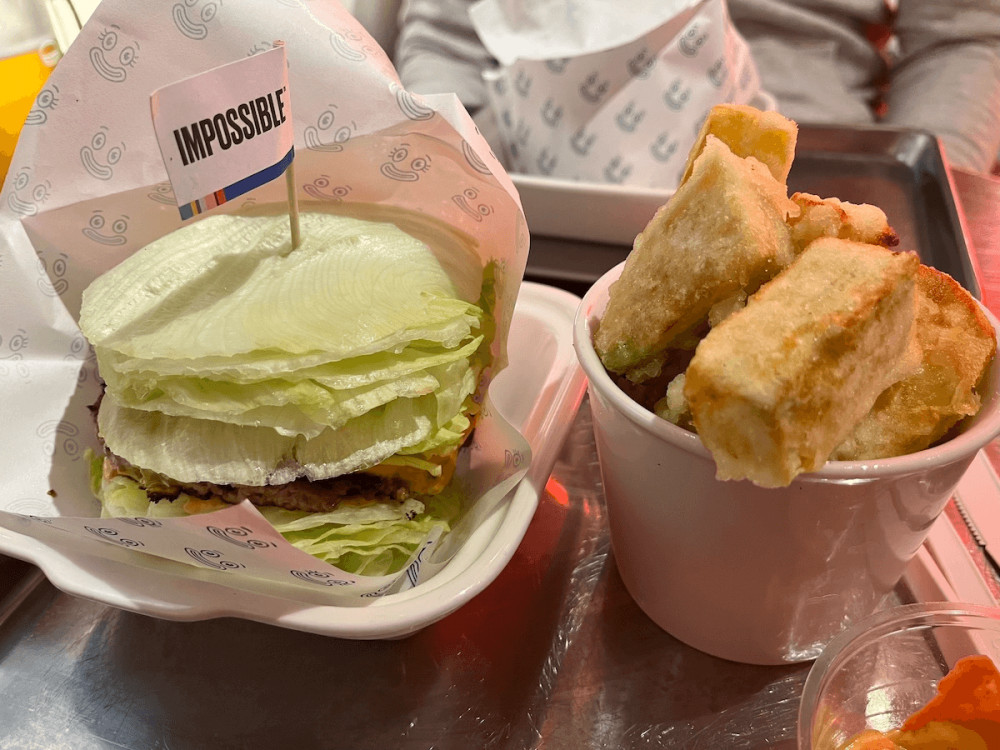 Gluten-free vegetarian burger
The side dishes such as fries and sweet potato pieces are also delicious. Plus, this is one of the few burger joints that also offers a gluten-free option. You can have the bun replaced for a 'lettuce bun'. This one is indeed made of lettuce leaves and is not inferior to a real burger!
Vegetarian enjoyment at restaurant VEDA in Hong Kong
Restaurant VEDA cannot be missed in this list. This vegetarian restaurant was founded by Australians and appears in many lists of top restaurants in Hong Kong.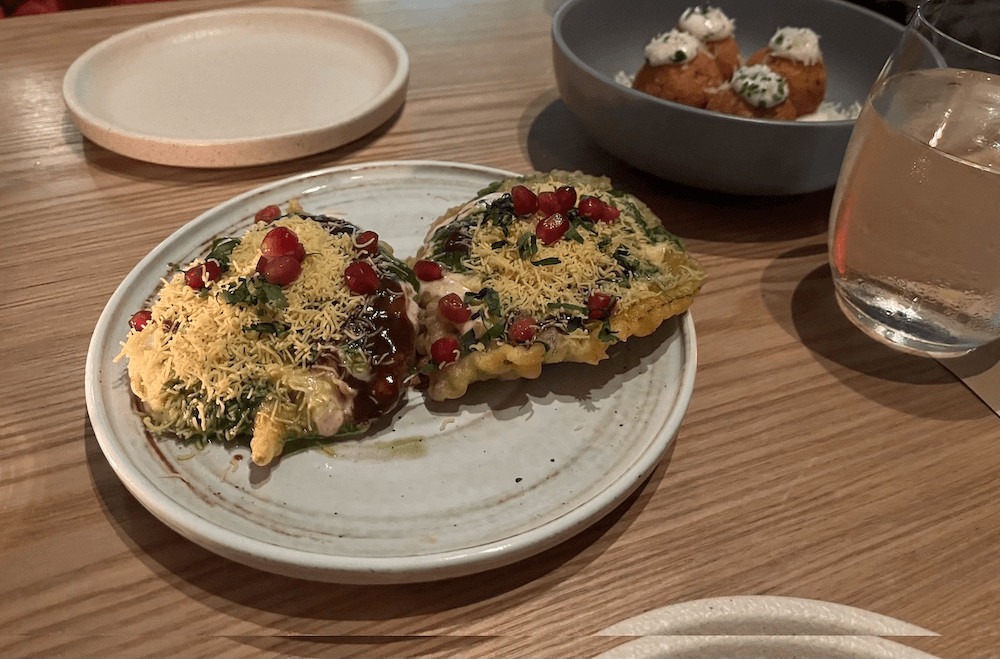 VEDA's menu is inspired by Indian cuisine and offers a wide choice of tasty and colorful dishes that vegetarians and non-vegetarians alike can appreciate. It is part of the Ovolo hotel and slightly more expensive than an average restaurant in this city. But you won't easily find the truffle polenta balls anywhere else. In addition to dinner, you can also enjoy breakfast and lunch here.
Other vegan and vegetarian restaurants in Hong Kong
Is the above restaurants where you can eat vegetarian and vegan not enough? Then there are many more options in Hong Kong. Consider, for example, the Gaia Veggie Shop. Or restaurant Chili Gafara for a wonderful experience.
Would you like a dish from South Indian cuisine? Then Sangeetha Vegetarian restaurant is a good option. From Samosas to Paneer Tikka. And from a Mango Lassi to Chili Vegetable. You can enjoy it all in this restaurant. And as the name suggests, all dishes are vegetarian.
More inspiration for vegetarian restaurants can also be found on the Happy Cow site.
In short, in
Hong Kong
there are many vegetarian restaurants where you can enjoy tasty and varied dishes. you can get. And not just boring salads or simply tofu. From flavoursome Indian curries to traditional Chinese dim sum, there's something for everyone. This way, even the fervent meat eaters are tempted to try out the meatless cuisine. So, if you are looking for a unique culinary experience, a visit to one of Hong Kong's many vegetarian restaurants is a must. It will be a gastronomic journey you will not soon forget.