Sustainable travel. Is it really possible? Travel always has consequences for the environment.
However – as you'll see from these sustainable travel tips – that doesn't mean you can't reduce your ecological footprint when you venture to a new destination.
But let's start with a definition…
What is sustainable travel?

It can be argued that sustainable travel and tourism just don't exist. Any holiday away from home has an impact on natural and cultural environments.
For us, sustainable travel means traveling consciously. It means you treat nature with care and understand the effect you're having on communities at your destination. Ultimately, it means trying (as best you can) to limit the footprint you leave when you travel.
Responsible travel. Conscious travel. Travel with a minimal footprint. This is what sustainable travel means to us.
Sustainable travel tips: Getting to your destination
Plan a holiday closer to home
The simplest way to reduce your travel footprint is to pick destinations that are closer to home. We've all jetted off around the world to experience new people and places. But there's often so much still to discover in our own back yards.
Going to a different continent usually means booking a long haul flight. But plan a holiday to beaches, mountains or quaint little villages within your own region and your holiday instantly becomes more sustainable.
Travel by train or coach
Did you know that traveling by train instead of plane can reduce your holiday's carbon footprint by 90%?
If you're sticking closer to home, you may be able to avoid flying altogether. Did you know that traveling by train instead of plane can reduce your holiday's carbon footprint by 90%?
Coach journeys are also a sustainable option, with average CO2 emissions halved in comparison to flying.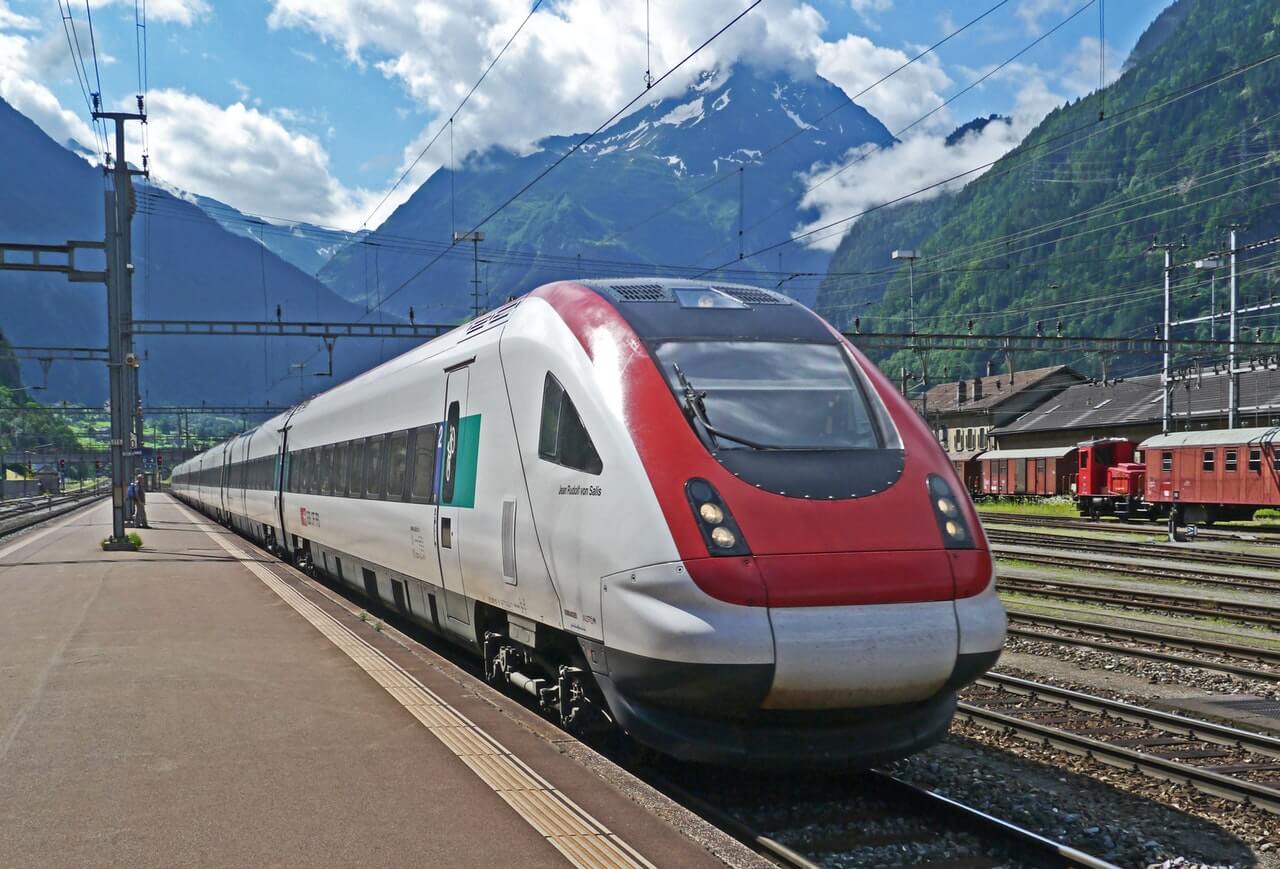 Be carbon conscious when you book a flight
If a faraway location is a must, traveling by train or coach becomes much more difficult! Most of us are restricted by work commitments and don't have the time for trans-continental train travel.
Flying is fast, cheap and safe. But there's no getting away from it. Flying has a huge effect on the environment.
A return flight from Amsterdam to Valencia produces the same CO2 emissions as 230 showers. Or running a washing machine an incredible 670 times.
So if flying is a necessity, we need to think very carefully in order to ensure our trip is as sustainable as possible. Here are some sustainable travel tips to consider when booking a flight:
Book a flight without a transfer
Wherever possible, book direct flights. Connecting flights usually involve a detour. Plus, take off uses more fuel than cruising. So CO2 emissions are increased on both counts.
Fly economy class
The more space you occupy as a passenger, the higher your proportion of CO2 emissions. So forgo the extra legroom and say no to business class. The space and luxury might be tempting but it will make your flight much less eco-friendly.
Choose a 'sustainable' airline
Not all airlines are equal. The type of aircraft used – the engines, the number of seats and cargo capacity – impacts on the efficiency of a flight.
Check out the Atmosfair Airline Index. It ranks the carbon efficiency of the 200 biggest airlines worldwide and helps you to make the best possible flight choices. Spanish airline, Air Europa, and Dutch airline, KLM, both score relatively well.
Book via FlyGRN and offset CO2
How do you usually book a flight? Direct with an airline? Or through another provider?
FlyGRN is the only flight comparison website that invests in CO2 compensation projects when you book your flight. You can also book package tours with FlyGRN, with a tree planted for every €100 spent.
Already booked a flight? Choose CO2 compensation
FlyGRN can help by offsetting your flight's CO2 emissions for flights already booked. For every ton of CO2 produced, we make investments in environmental initiatives such as constructing solar panels in India and a solar cooking project in Chad.
Sustainable travel tips: Exploring your destination
Traveling consciously isn't just about the journey to your destination. To travel as sustainably as possible, you need to keep up the good work while you're there.
Your presence in a new destination always has an effect. Some of those effects are really positive. You're contributing to the local economy.
But there are some negative effects too. Tourists produce additional waste. And they use resources like fuel, food and water that might not be readily available within the local community.
So here are a few sustainable travel tips for limiting those harmful effects whilst exploring your destination.
Choose sustainable accommodation
Where you choose to stay has a big impact on the sustainability of your trip. Lots of accommodation providers like to proclaim their 'green' credentials. But make sure this a genuine pledge rather than just a marketing tactic.
To find a real eco-hotel or hostel, look for a sustainability statement on their website. And try to find out exactly what they're doing to reduce their impact on the local area.
Many eco-hotels and hostels work on a circular method, reusing products and raw materials. They generate green energy themselves, grow their own fruit and vegetables, and ensure that waste is composted properly.
The best accommodation options will also support the local community. A large portion of the staff should be from the local area and they should be paid fairly.
Use less plastic
The sustainability rules we stick to at home shouldn't be forgotten when we travel. We all know the problems plastic poses to our planet and all life on it.
So pack your own canvas shopping bags, drink from a reusable water bottle with a filter, and say no to single-use plastics like straws. Try to leave your destination as you found it, as much as is possible.
Take care of nature
If you're planning on exploring nature at your destination, on the land or in the sea, take care.
On hiking expeditions, keep to designated paths so you don't damage ecosystems. And it goes without saying that you should take all your waste with you.
Out snorkelling? Don't be tempted to touch the coral. And choose reef-safe sunscreen that doesn't contain coral killing oxybenzone.
Show respect for the locals
Traveling consciously also means respecting local people and their traditions. Dress appropriately and stick to local rules and customs.
Getting to understand local life in your destination is also a great way to increase your positive impact on the area.
Shop at local markets. Eat at local restaurants. You'll make so many amazing holiday memories and you'll be contributing to the local economy too.
Conclusion: Is sustainable travel possible?
Sustainable travel feels likes a contradiction in terms. But it is possible to make conscious travel choices that reduce your impact on the planet.
Pick destinations that are closer to home. If you do fly, pick a sustainable airline and offset your carbon emissions.
And once you reach your destination, continue to be a responsible traveler. Stay in eco-hotels, limit your waste and show respect for local nature and culture.
Follow these sustainable travel tips and we can all make a difference; working together towards a greener, cleaner earth.
What do you think?
How do you incorporate sustainability into your travel adventures? Do you travel by train or coach? Do you have any other sustainable travel tips?
Share your thoughts in the comments below or post on Instagram. We'd love to hear what you think!
Want to know your flight's carbon emissions?